Snow. And lots of it.
The latest rankings of countries according to average level of reported happiness have been released by the United Nations.  Here are the top performing countries.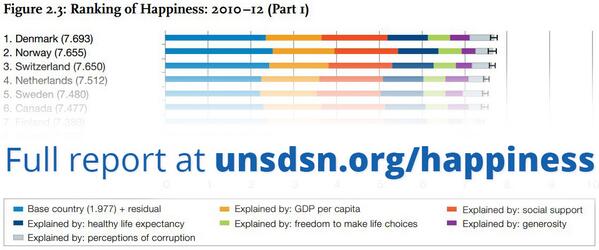 If you look at, say, the top six countries, they have a number of things in common (they are wealthy and Western). They also tend to be cold in the winter. It's clear  that the creators of this ranking system didn't incorporate climate into their rankings. In contrast, The Economist's rankings of cities takes weather, along with wealth, crime rates, etc into account. For many years, Vancouver beat many other Canadian cities and was rated the best city in the world simply because its climate was so mild. In recent years, Australian cities, which have an enormous weather advantage, have captured the top spots. The happiness rankings suggest that perhaps severe winters should not receive such a heavy weighting in calculating The Economist's city rankings.
Top 30 "Happiest Countries"
1. Denmark (7.693)
2. Norway (7.655)
3. Switzerland (7.650)
4. Netherlands (7.512)
5. Sweden (7.480)
6. Canada (7.477)
7. Finland (7.389)
8. Austria (7.369)
9. Iceland (7.355)
10. Australia (7.350)
11. Israel (7.301)
12. Costa Rica (7.257)
13. New Zealand (7.221)
14. United Arab Emirates (7.144)
15. Panama (7.143)
16. Mexico (7.088)
17. United States (7.082)
18. Ireland (7.076)
19. Luxembourg (7.054)
20. Venezuela (7.039)
21. Belgium (6.967)
22. United Kingdom (6.883)
23. Oman (6.853)
24. Brazil (6.849)
25. France (6.764)
26. Germany (6.672)
27. Qatar (6.666)
28. Chile (6.587)
29. Argentina (6.562)
30. Singapore (6.546)