For the last few days, I've been at the joint meeting of the Business History Conference and the European Association of Business Historians in Miami. This year's conference had inequalities as its central organizing theme. The keynote address was by Thomas Piketty, who is interested in socio-economic inequality. However,  the working definition of inequalities that informed the conference was, of course, far broader and included such as issues as differences in the capabilities of firms in the same industry.
This year's BHC featured a number of Paper Development Workshops. I presented at the excellent PDW on the New Entrepreneurial History organized by Dan Wandhawni and Christina Lubinski.  All of the papers I heard at this workshop were excellent and it is inspiring to have been selected as part of this group. I got very useful feedback on my paper from the participants, particularly Daniel Raff, Howard Aldrich, Andrew Godley (three very established management academics) and Ellen Korsager, who is an extremely impressive newbie PhD from Copenhagen Business School.
I also attended a meeting of scholars with research interests or institutional affiliations that connect to Canada. A new organization for Canadian Business History is in the process of being formed (more details to follow, but here is a link to the website).
The main conference was equally excellent. Program committee chair Lucy Newton's hard work in selecting papers and formed coherent panels deserves to be recognized, as does the hard work of everyone else who made the conference possible, including the superb and under-appreciated staff of the Hyatt Regency Miami.
I was part of a panel on banking history. My fellow panellists were Lucy Newton (Henley Business School), Victoria Barnes (University of Reading), and  Laurence Mussio (McMaster University). We received valuable feedback from audience members including Les Hannah, Youssef Cassis, and the aforementioned Ellen Korsager.
My favourite panels this year were: Corporations and Inequality (Robert E. Wright, Augustana College; Leslie Hannah, London School of Economics; Richard Sylla, Stern School, New York University; Roni Hirsch, University of California, Los Angeles) and The Role of History at Business Schools (Stephanie Decker, Aston Business School; Dan Wadhwani, University of the Pacific; Mads Mordhorst, Copenhagen Business School; Anders Ravn Sørensen).
Takafumi Kurosawa of Kyoto University gave a great paper "Who Are We? History and Identity of Business History Societies" that looked at how business history differs around the world (e.g., in the United States, most business historians are in history departments, in the UK they are mostly in management schools, in Japan they work in economics departments). He also presented compared the histories of the main business history organizations around the world.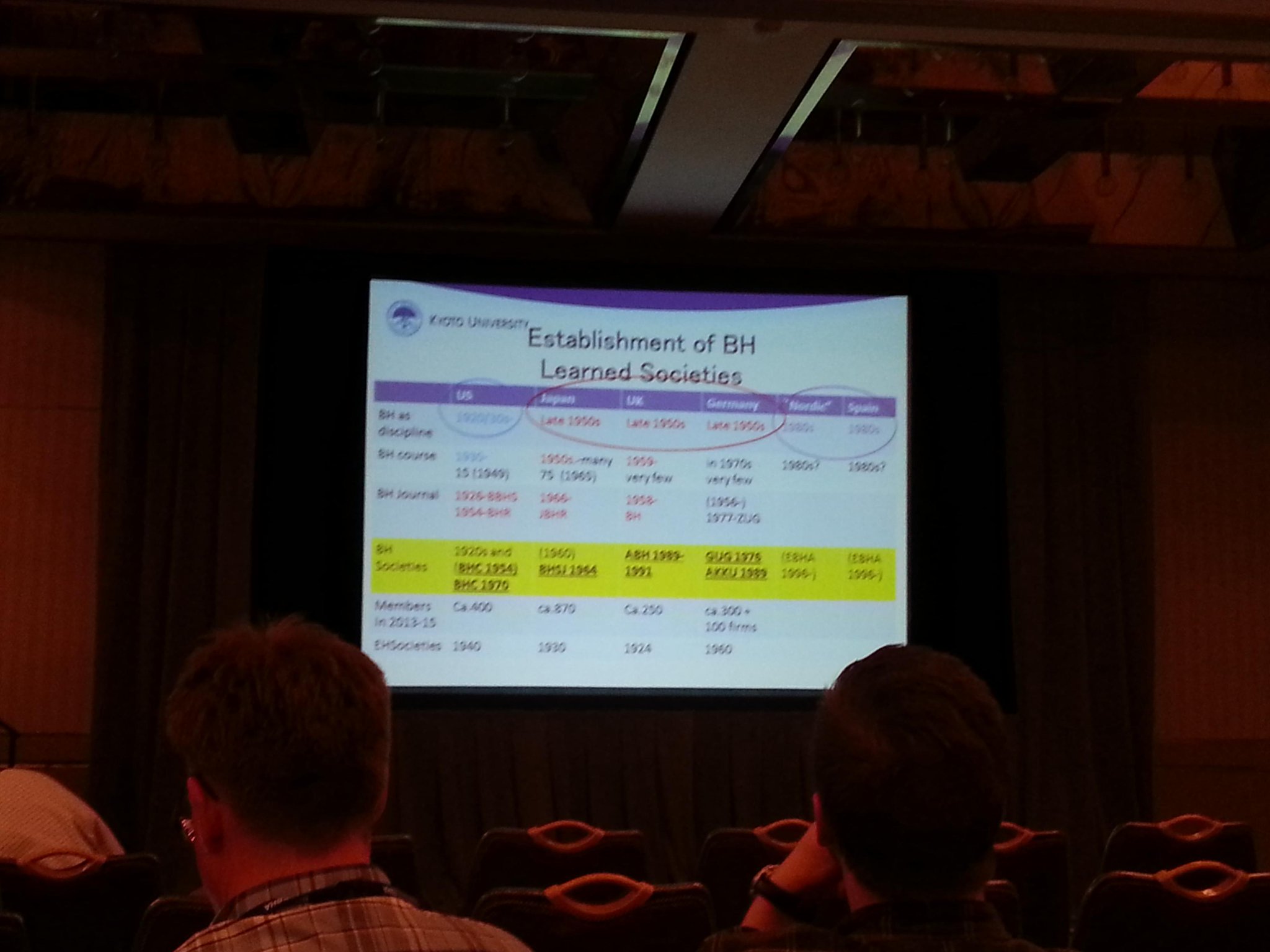 The winner of this year's Krooss Prize for best PhD thesis in business history was David Singerman, whose thesis on the development of modern sugar refining was judged to be a superb piece of work that straddled business history and the history of technology.
P.S. The membership of the BHC and EBHA overlaps with that of EGOS, which will be holding its big conference in Athens later this week. At BHC, many of the EGOS members were discussing whether it would be wise to travel to Greece in light of the actual monetary chaos and expected civil disorder there.